text version of

letter from PA Governor Raymond P. Shafer

to

Ed Sullivan

inviting him to celebrity/blind fund raiser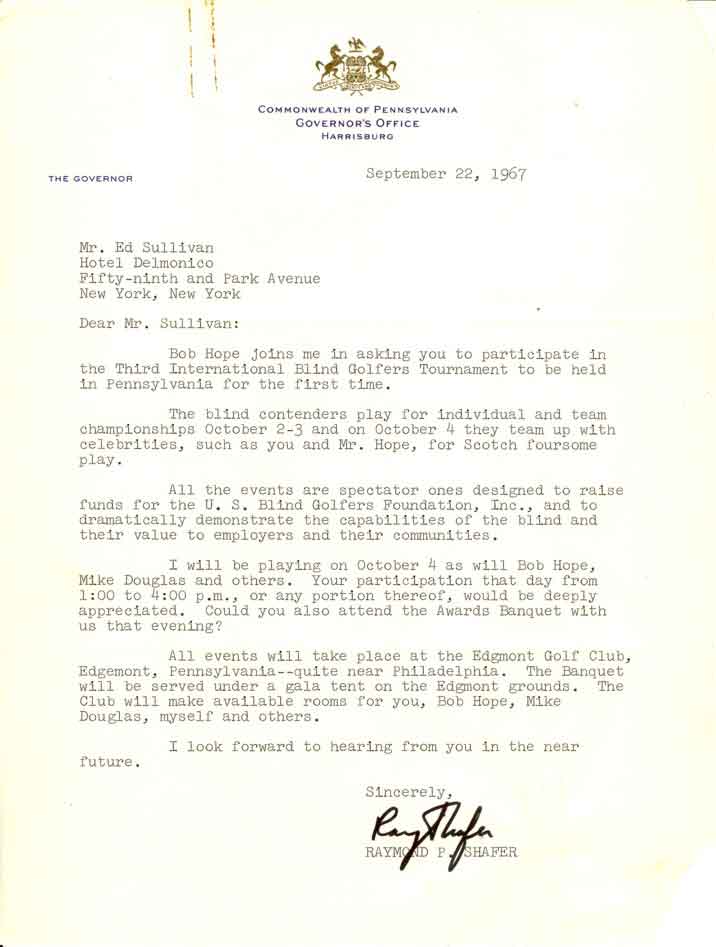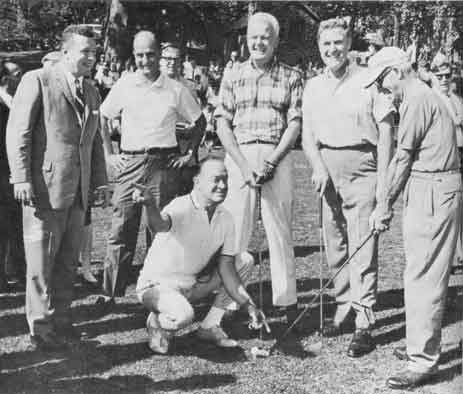 Bob Hope lines up a shot for Charles Tooth, president of the U. S. Blind Golfers Foundation.
Watching with interest are Jack Trinsey (left), George Fazio,
William Jenkins, vice-president of Coca-Cola Co.
and Gov. Raymond P. Shafer.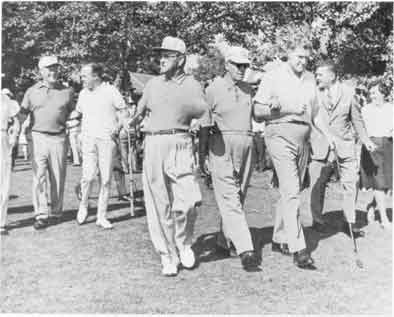 They're off to play in the tourney. Bob Hope and George Fazio (partly shaded) escort defending blind golf champion Charley Boswell of Birmingham, Ala., at left, while Gov. Raymond P. Shafer and Ralph Ebing guest PGA Professional flank Charles Tooth, president of the blind golfers. That's promotion coordinator Jack Trinsey at far right.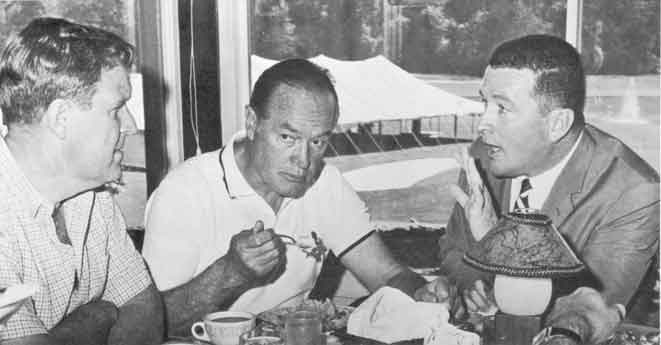 HOPE for the blind!"-tournament is born at Edgmont Golf Club
Bob Hope is surely the patron saint of the blind golfer because of his twenty years service to that cause.
It was at Los Angeles in 1948, that Hope first teamed with blind golfer, Charles E. Tooth, who last year founded the U.S. Blind Golfers Foundation, Inc., and serves as its president.
Both these men have nurtured the blind golf­ers program over the years and this Fall the 3rd International Blind Golfers Tournament was awarded to Edgmont Golf Club, Edgemont, Pa. October 2, 3, 4 1967.
The tournament format consisted of play-offs for international individual and team champions and exhibition rounds ... blind contenders matched with Bob Hope, Gov. Raymond P. Shafer, plus other celebrities.
When Edgmont's President, Nazz Mariani, and Pro Tiny Pedone, took on the tournament they wanted to do something extra special to honor Bob's 20 years service to the blind golfers. paradoxically, they went to a nongolfer, a former Olympic oarsmen, idea-man John S. (Jack) Trinsey, Jr.,of Upper Merion Township .
Jack was the rowing partner of Jack Kelly, Jr., the brother of Princess Grace, at the 1948 London Olympics.
Trinsey's "Hope for the Blind" Tournament could become one of the big classics in the golf game, to say nothing of the financial aid it could bring to the blind.
An 18-hole medal play, open to amateurs with an approved club handicap, it has a "Hope for the Blind Gold Trophy," for low gross and "Hope for the Blind Silver Trophy," for low net. Both trophies were awarded by Bob Hope at a gala "Hope for the Blind Awards Banquet." A copper embossed picture of the presentation is affixed on the trophy -a handsome plaque.
The tourney concept was new but it drew a welcome appreciation from 46 golfers in its first effort.
But it did happen. It proved an exciting challenge to compete for a golf trophy named in honor of Bob Hope . . . and for its purpose-Help for the Blind!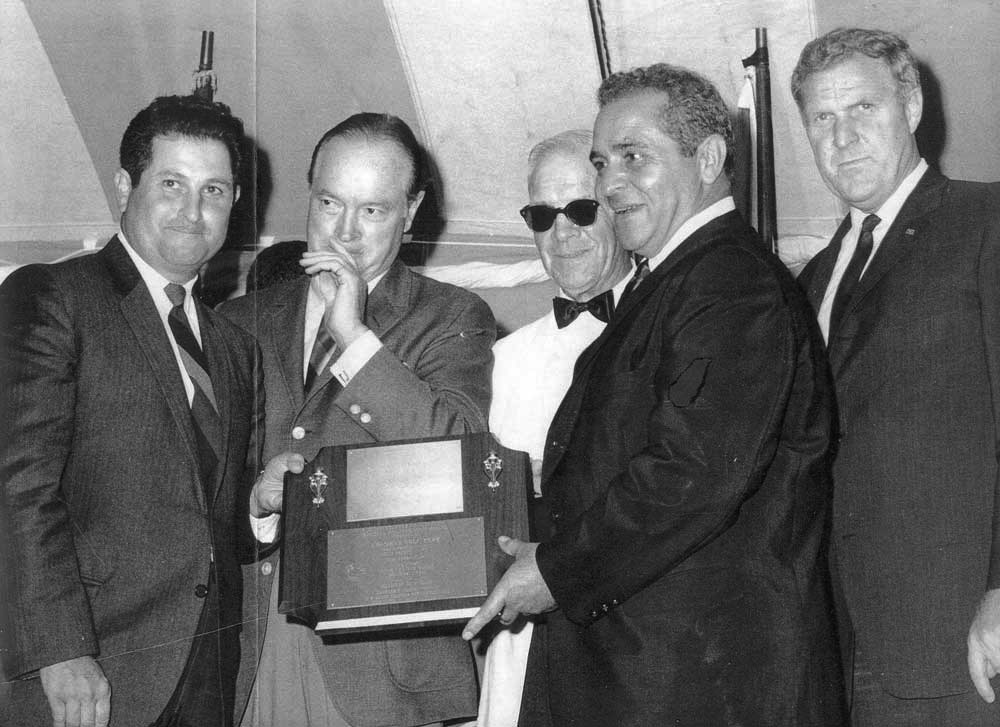 (Left -Right) Tanino "Tiny" Pedone, Bob Hope, Charles E. Tooth President of the Blind Golfers, Nazz Mariani, PA Governor Raymond Shafer
October 4th, 1967
Coverage in the Philadelphia Inquire October 1,3,4 &5 th 1967
October 1, 1967 Sunday Magazine
October 1, 1967 October 3. 1967 October 4, 1967 October 5, 1967
Program from the Hope for the Blind 1967
Mid Atlantic Blind Golfers Tournament Program November 1967
Great photos and coverage of Hope for the Blind Event